How does the Business Plan Builder work?
As the head of your business, you'll need to understand all aspects of your business in order to keep it running like a well-oiled machine. Your business plan will organize every element of your business strategy from location and staff, to finances and investors; providing a clear map for you to follow and return to during the many different stages of your business' lifespan. The Business Plan Builder simplifies the process by combining all the data and charts into one easy-to-use, interactive tool that covers the 3 main parts of the business plan. Not only will you be able to develop your business plan but you will have expert guidance along the way and a dedicated business plan expert who will review your completed business plan and provide feedback and recommendations.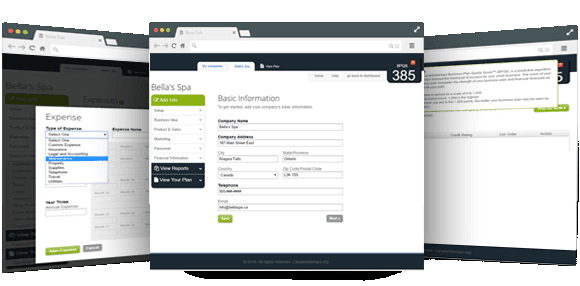 It's as simple as filling in the blanks
The Business Plan Builder covers these essentials, and more. By answering various questions about your product or service, its location, the employees, and how you plan on selling it; a detailed profile of your business is generated, including your sales & marketing strategies; your customers & competition; and the money you will spend and make year over year.
Business is about numbers, but not everyone is a financial whiz. The Builder is equipped with several interactive tables that allow you to simply punch in a few numbers and automatically have the calculations done for you. No need to worry about having the right formula, they're all built in to the tool. The Business Plan Builder eliminates the need to hire an expensive professional.
Get Access and Start Using the Business Plan Builder
Start building your complete, professional Business Plan today!
Ready to try it out? Get started today.
Start building your very own customized professional Business Plan today! .