3 Key First Steps To A Business Funding Application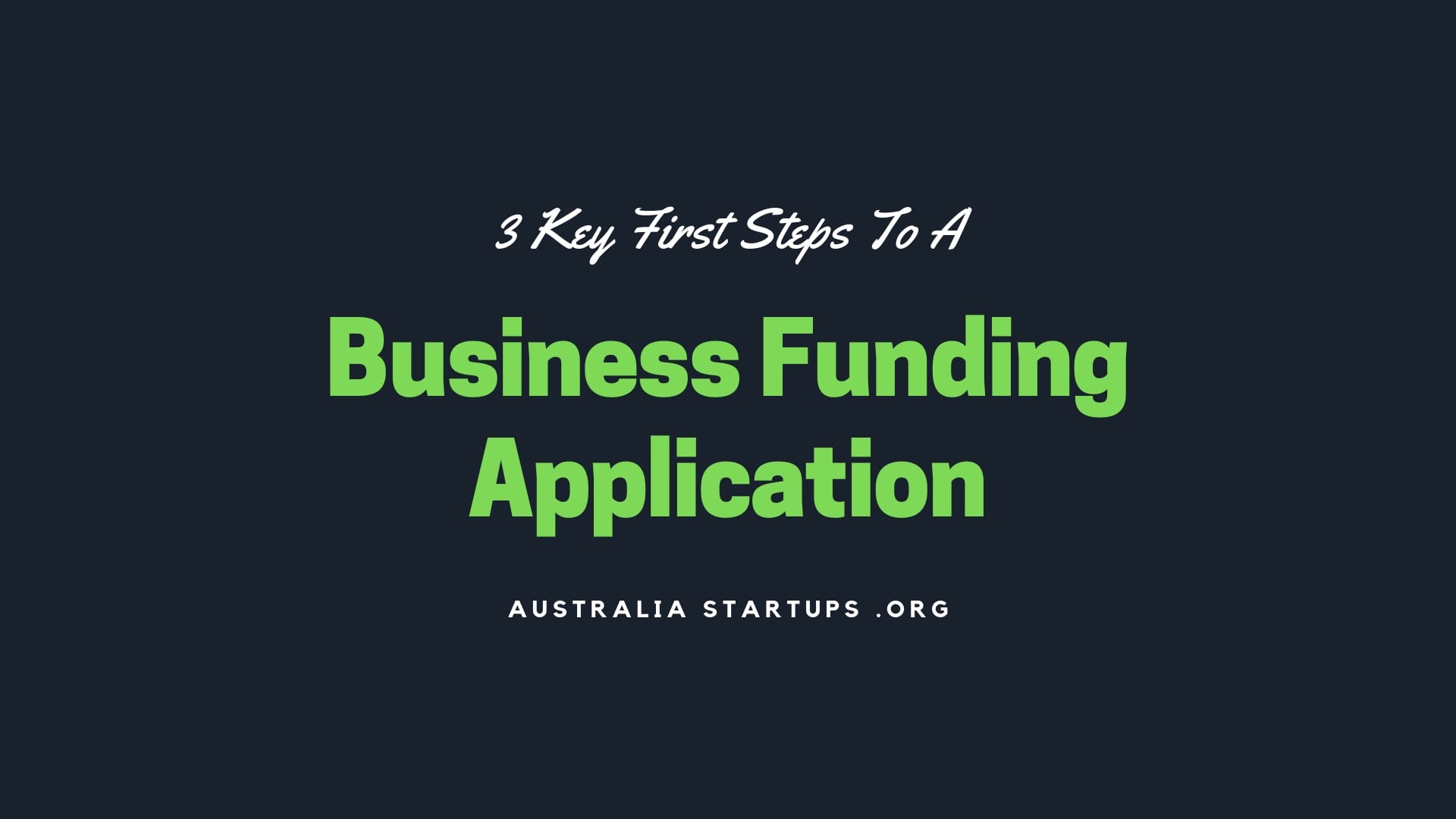 Getting funding for your business is critical, especially if you need it early on in order to secure your business startup. Applying for funding can get frustrating but with these 3 key first steps to a business funding application you're sure to avoid the mistakes many make – and don't get funded.
3 Steps To A Business Funding Application
Funding for a small business can be obtained from a variety of sources. Money can come from personal savings, family and friends, bank loans, lines of credit, refinancing your mortgage, private investors or government funding programs.
If you're applying for funds form a 3rd party source such as a bank, private investor or government funding agency, an application will most likely be required.
Funding applications are critical as they will tell the lender who you are, what you want and how much money you need.
These funding applications are important; you want to make a good impression and not make any mistakes. Here are 3 steps to ensure you follow when filling out the business funding applications.
Ensure you meet the criteria and requirements
Have a prepared business plan ready
Give yourself and the lender time
Business Funding Application Criteria and Requirements
Every single application has certain requirements, be it that you're renewing your passport, applying for a mortgage..etc; the applications always have some sort of notice to the applicant such: print only, use a blue pen, attach a photo..etc
Bank loans, private investor and government funding program applications are no different – in the criteria and requirements department.
You simply have to follow the business funding application form rules and complete the application correctly.
Prior to doing so you as the applicant have to ensure you meet these requirements. In terms of funding, certain things may apply such as: your location, age, income level, industry of your business, funding needs (how much money)..etc
Failing to follow the criteria and the requirements of the business funding application, you may be destined to fail and be denied funding.
Have a Business Plan Ready
A business plan is one of the most important documents that a business has. A properly developed business plan contains the critical information which explain the business in detail; as well as the funding needs one has and must have met.
Without a proper business plan, applying for business funding won't get you very far.
Just think about it? If you were a bank, a investor or a government funding agency – would you lend money to somebody without a plan?
Probably not!
Creating a business plan and submitting it along with your business funding application, most of the time is a must.
Give YOU and the LENDER Time
Timing with a business startup is something of importance. Giving yourself and your lender time is critical to the success of your business funding application in this case.
Why you?
You matter a lot and you decision as to when to apply for funding.
Keeping in mind that funding ins't instant and most of the time it can take between a few weeks to a few months (depending on the source). You wan't to ensure that you're applying on time.
For example: let's say you're a Christmas ornaments business and your top sales month is mid to end of November and December; but you need x amount of money to help you purchase supplies, inventory or to hire help for those 2 months. You probably should be looking at obtaining funding near the end of summer in order to give yourself time to obtain the money and to prepare. If you apply for funding in October – it may be too late.
Time is critical.
Your business plan will tell you what you need money for – how much money you need and by when you need it by. Be sure to follow that.
At the same time, the lender who is giving you the money will take time to review your application, determine if you're the best fit, read your business plan, take some time in between and when they contact you to tell you that you've been approved – it can still take some time before you get the funds.
It's a waiting game and it's important that you know how to play.
These are the 3 key steps to a successful business funding application.